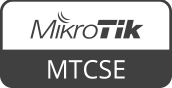 MikroTik Certified Security Engineer


2 Day Class, Jun 26-27 at Irving, TX
Instructor: Rick Frey


MTCSE
Introduction
Attacks, mechanisms and services
The most common threats
RouterOS security deployment
Firewall
Packet flow, firewall chains
Stateful firewall
RAW table
SYN flood mitigation using RAW table
RouterOS default configuration
Best practices for management access
Detecting an attack to critical infrastructure services
Bridge filter
Advanced options in firewall filter
ICMP filtering
OSI Layer Attacks
MNDP attacks and prevention
DHCP: rogue servers, starvation attacks and prevention
TCP SYN attacks and prevention
UDP attacks and prevention
ICMP Smurf attacks and prevention
FTP, telnet and SSH brute-force attacks and prevention
Port scan detection and prevention
Cryptography
Introduction to cryptography and terminology
Encryption methods
Algorithms – symmetric, asymmetric
Public key infrastructure (PKI)
Certificates
Self-signed certificates
Free of charge valid certificates
Securing the Router
Port knocking
Secure connections (HTTPS, SSH, WinBox)
Default ports for the services
Tunneling through SSH
Secure Tunnels
Introduction to IPsec
L2TP + IPsec
SSTP with certificates
REGISTER EARLY and save $$$!
Early Registration Open Now: $695
Regular Registration: $895
Course prerequisites: MTCNA certificate
---
Meeting Location Information
We have a special rate of $99 per night at the host hotel. Click the link below to get the $99 rate.
The event will be held at LaQuinta DFW North.
4850 West John Carpenter Freeway Irving, TX 75063
---


Class Schedule
Courses are 1-3 days long and typically take place in the Hotel conference room.
Each class day begins at 9:00 am and ends at 5:00 pm (or later if we run behind) with an hour lunch break.
The certification test will be given on the last day of class and should be completed no later than 6:00 pm.
You are required to make at least 60% on the exam. If you score a 50% or better, a second chance can be given.
What You Need to Know & Bring
You will need a working laptop with administrative privileges so you can set a static IP address. You will also need to know how to set a static IP on your laptop and Google is a great place to search for guides on how to do that. Your laptop needs an Ethernet port!
Bring a standard power strip, two each Cat5 cables at least 3 feet long and a notebook to write in, everything else is provided.
You need a basic understanding of networking and subnetting. There are tons of YouTube videos to watch to learn subnetting.
All students attending and taking an exam will receive one free RouterOS Level 4 license
Cancellations: In case you need to cancel your participation at the seminar, a written notice should be sent in by e-mail to training@learnmikrotik.com prior the seminar. There is an administrative fee of US$100 for refunds. There is no refund for training fees paid if cancellation is received less than 10 days before the event.