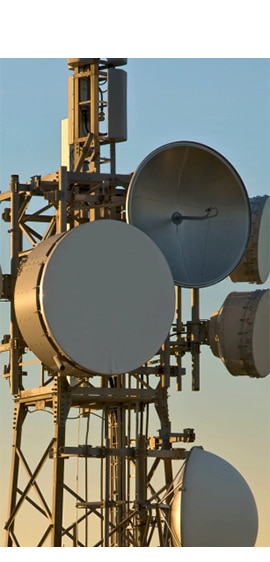 Excellence in modern wireless data transmission technologies, creativity in solutions, accuracy in design, precision in production and logistics make SAF Tehnika a unique manufacturer of point-to-point microwave data transmission equipment. Originally incorporated and having its headquarters in Northern Europe, SAF Tehnika had become a global reach company within just a decade, covering all relevant market segments and deploying its products in more than 100 countries worldwide.
Normunds Bergs
CEO of SAF Tehnika
INTEGRA G/GS
Next generation all-outdoor microwave radio product
Integra-G is an unbelievably light, energy efficient carrier-grade system that exemplifies an outstanding return on smart engineering - the synergy of high competence in radio electronics and materials science. Integration of next generation microwave radio with high and super high performance antennas into a single unit translates into a lower total cost of ownership, as well as less time spent on the installation site, and better reliability of the link even in densely served areas.

Up to 1Gbps throughput
With header compression in 1+0 configuration or 2+0*.
Fast installation
Direct radio and antenna integration allows to save time usually spent on radio to antenna assembly and hermetization.
Better link performance
Makes it possible to use smaller size antenna on existing link or to cover longer distances due to better system gain @ 256 QAM. With optional ETSI Class 4 antennas Integra is perfect radio to be deployed in dense microwave environment.
Easier handling and saving on shipping cost
All-Outdoor radio (incl. modem, Ethernet network processor, PoE splitter and surge arrestor) with integrated antenna in a single-unit compact design.
Scalable channel bandwidth
From 3.5MHz up to 60MHz in single hardware design. Integra is the most universal radio fit for variety of applications – from last-mile to backbone connectivity.